Interview with masseuse Katrin
23.6.2023
Please get to know one of our erotic masseuses. Today, we're going to introduce you to the beautiful Katrin, who will tell you a little bit about herself and her approach to massages and allow you a little glimpse into her private life.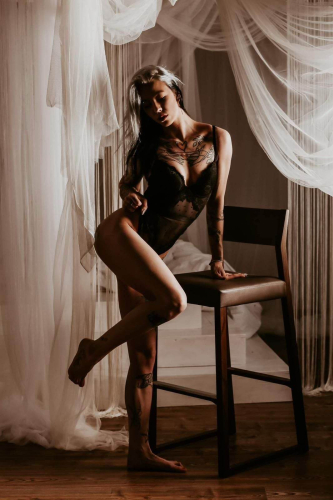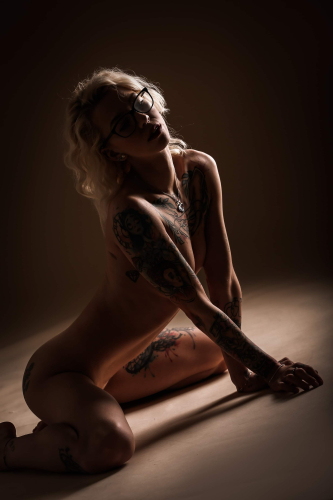 Could you please describe your appearance so clients can get to know you better?
I am a slim blonde with prominent tattoos. My breasts are only deuces, but I am very tall – 175 cm. I weigh 50 kg and am 23 years old.
Do you speak any language other than Czech?
Yes, I also speak English.
What kind of massages do you perform, and which one is your favourite?
I perform a wide range of massages. However, my favourite is the intimate and four-hand massage.
Do you also provide some extra services like footjob or prostate massage?
Yes, for example, Lap Dance or footjob.
Do some of your clients bring you gifts? What would you appreciate the most?
Yes, some clients bring lovely, delightful gifts. Usually, they give me lingerie or just a flower. I'm happy with anything, but I most enjoyed the lingerie.
What kind of lingerie do you like to wear?
It's individual. It depends on my mood.
What about your private life? What are your hobbies, and what do you like to do?
I don't have any regular hobbies. However, I like to spend time focusing on myself, exercising and my mind.
What qualities do you prefer in men?
I don't have any preferred type of guys or qualities they should have. Anyway, he can't be a self-centred, cocky guy. I prefer honesty, loyalty and fun. If a guy's not funny, that's not it.
What would your perfect date be like?
I imagine we'll spend my first date where we're both comfortable. I like food, so I'd be happy to go to a restaurant or just take a walk in the countryside.
And finally – would you like to convey a message to potential clients who might be shy to come or are planning to take part in an erotic massage?
I would say that it is quite normal to be shy. However, the professional approach of all the masseuses ensures that the embarrassment disappears as soon as you enter the salon. We can induce a pleasant atmosphere, influencing, of course, the pleasurable experience of the massage.