Penis massage Prague
Enjoy an erotic penis massage and let your manhood be pampered by a beautiful masseuse. The lingam massage is an electrifying experience.
Erotic massages have been used for centuries for invigorating, and nowadays they are often spiced up with interesting practices – e.g. BDSM massage, Pussycat massage, lesbian massage or autoeroticism. Penis massage belongs to the most popular part of erotic massage. The masseuse carefully focuses on your penis, testicles and their immediate surroundings. Tender and playful touches of skilful hands will bring you to complete bliss. Cumming is a standard part of a penis massage.
You will experience a series of slow and faster strokes that will give you unprecedented pleasure. You will discover the exact location of your erogenous zones and harmonise your physical and mental body. The intimate massage can improve the functionality of your intimate parts and strengthen your erection.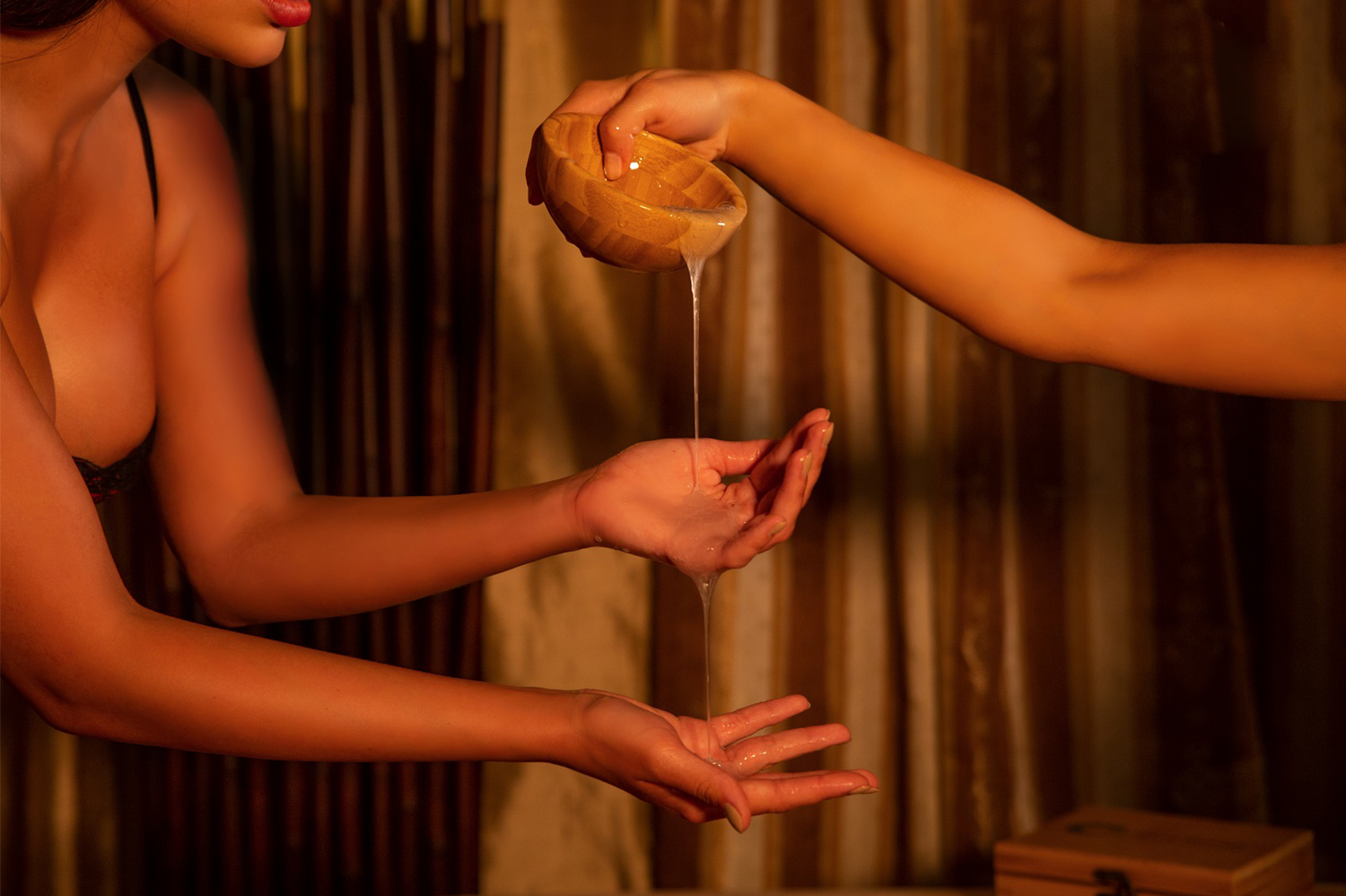 Penis massage do not belong to sexual services. Oral and traditional sex is neither a part of penis massage not available for an additional fee. Inappropriate touching or suggestions may offend the masseuse so much that she will end the massage.
Benefits of lingam massage
Get rid of stress and tension,

By blood circulation to the penis, you will support its healthy function,

Practice your stamina by massaging your penis,

Discover new ways to stimulate your penis,

Experience a unique pleasure,

Promote a more profound sense of touch.
If you indulge in penile massage regularly, you will improve the overall health of your manhood. Massage techniques relieve the muscles of your privates and increase the blood supply to the penis. After a penis massage, you will feel pleasantly relaxed and satisfied. Do not be afraid to include a similar massage as foreplay with your partner. You can also try a footjob.
You will never forget the pleasure you have experienced during a penis massage, and you will want to repeat it. Getting it regularly will help you strengthen your physical and mental health and improve your love life significantly.
Enjoy an intense massage for men and unwind in the intimate atmosphere of an erotic massage parlour in Prague.
Massage Lingam in Prague pricelist
| Length of massage | 1 masseuse | 2 masseuses |
| --- | --- | --- |
| 0,5 hour | 1800 CZK / 72 € | - |
| 0,75 hour | 2200 CZK / 88 € | - |
| 1 hour | 2400 CZK / 96 € | - |
| 1,5 hours | 3500 CZK / 140 € | - |
Our masseuses
How to experience the best penis massage in Prague 4
EXCELENT EROTIC MASSAGE PRAGUE VYŠEHRAD
Marie Cibulkové 14
140 00 Praha 4
Opening time:
Monday - Sunday 10:00 - 22:00
You can find our salon Excelent Massage Prague on Marie Cibulkové street in Prague 4, approximately five minutes walk from metro stations Vyšehrad or Pražského povstání on line C. You can also reach us easily from the bus stop Klikovka on bus line 134, which is about a 5-minute walk away.
If you come to us by car, you can park directly in Marie Cibulkové street for a fee of 30 CZK/hour (paying at the parking meter). You can also leave your car in Mikuláše z Husi or Na Topolce streets marked with blue zones. You can park there only for 3 hours and pay via the mobile app (there are no parking meters).