Tantra massage Prague
Indulge in an ancient tantric massage and release mystical erotic energy. Traditional tantric massage is incredibly arousing, and you release accumulated tension and unwind beautifully.
Regain life force

Experience an electrifying thrill

The masseuse will intensively focus on your privates
Tantric massage combines sexual and spiritual elements. Unlike a traditional erotic massage, you will experience a new dimension of eroticism and excitement. If you want to enjoy the ultimate relaxation, try a tantric massage with our experienced masseuses.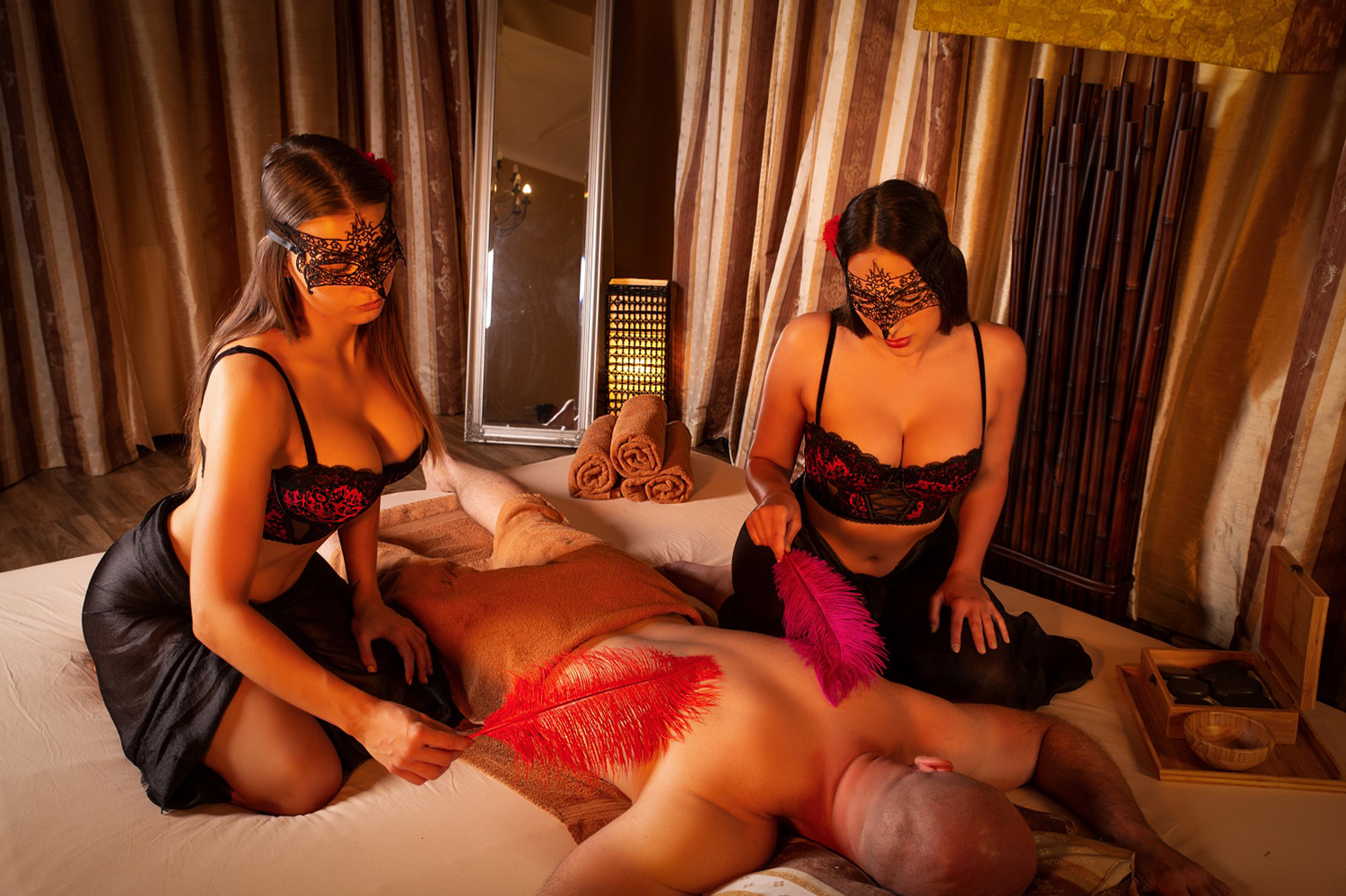 During the massage, the masseuse will perform a unique technique to massage your whole body, release blocked energy, and infuse you with a new life force. Tantra massage involves the application of various aids to stimulate your sensitive senses. The masseuse will touch your whole body, including your privates, which receive special attention. Your climax during or at the end of the massage is, thus, a standard part of a sensual tantric massage.
WHAT DOES A TANTRIC MASSAGE INVOLVE?
Prior to each tantric massage, the masseuse will accompany you to a bathroom. After a pleasant shower, a relaxing full-body massage comes next. During the massage, the masseuse will apply heated towels, soft feathers and aromatherapy oils with aphrodisiac effects of your choice.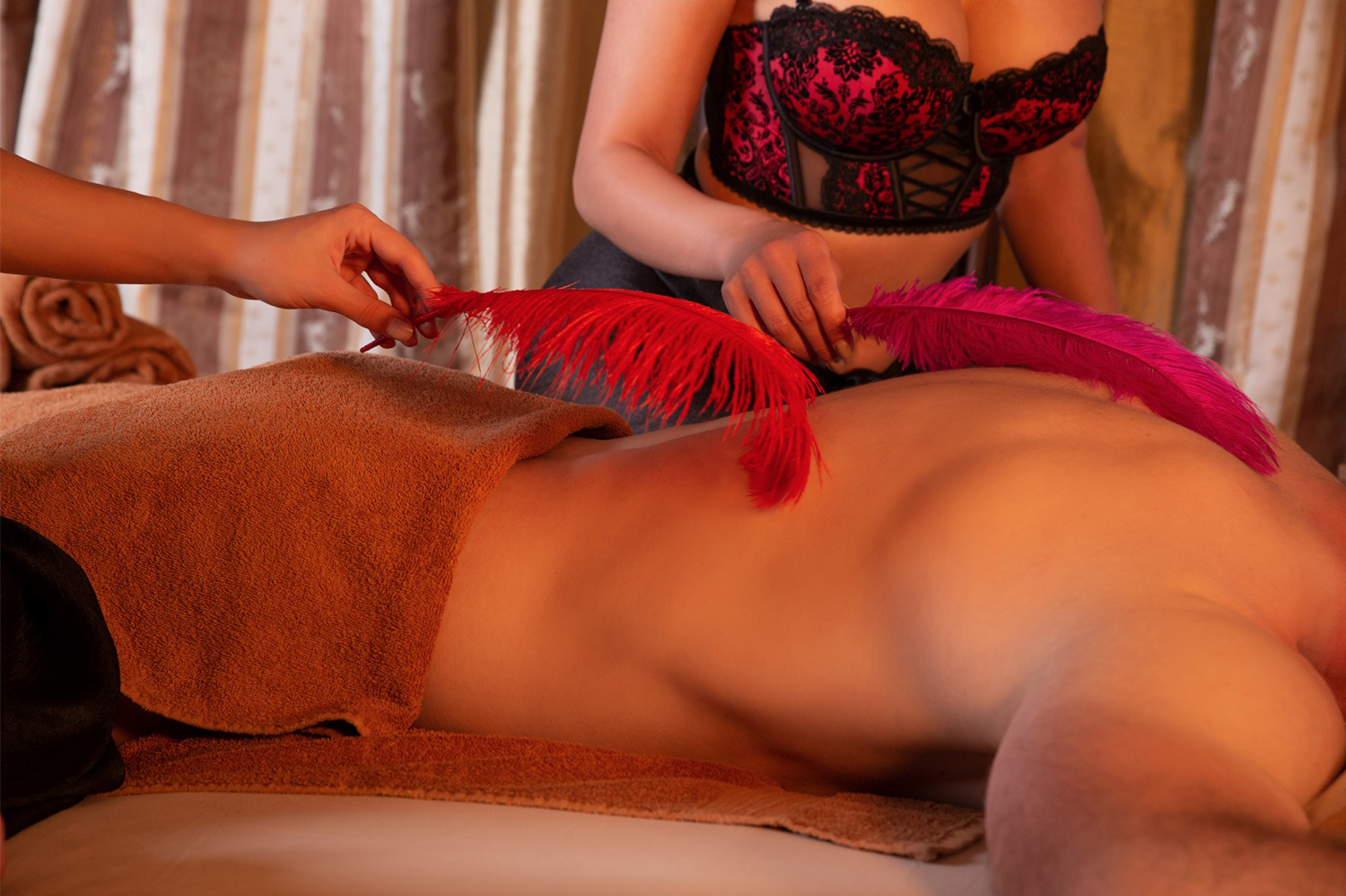 When giving a tantra massage, the masseuse is completely naked. However, if you wish, she will dress up for you in seductive lingerie, sensual chemise or lace stockings.
Tantric massage is not a sexual service. Oral and traditional sex is neither a part of erotic massage nor available for an additional fee. Inappropriate touching or suggestions may offend the masseuse so much that she will end the massage.
VIP TANTRA MASSAGE PRAGUE
Tantric massage in Prague 4 has become very popular with men and women alike, and it's no wonder you'll feel reborn. Thus, visit our cosy environment and let yourself be massaged according to the old and proven methods. It is well known that tantric body massage can also cure, for example, erectile dysfunctions in men or arousal problems in women. Come relax and enjoy a tantric massage in the city centre of Prague.
TANTRIC PENIS MASSAGE
Tantric penis massage will immensely relax you and assist with better erections. Thus, you may find erotic play with your partner a much more intense experience. Tantric penis massage brings about a powerful climax that you may not have experienced before. Don't be afraid to visit our massage club, gentlemen. It is not an erotic club, but we offer tantric penis massages that are erotic and very captivating, just like the environment of our separate rooms. Our tantric penis massage can also be presented as an excellent gift from your partner for men who appreciate a change.
TANTRIC MASSAGE FOR COUPLES
Tantra massage for couples can be one of the effective ways to improve your somewhat failing relationship with your partner; it can heal both the body and the mind. So, try the services of our beautiful and skilled girls who can make your dreams come true, and both of you will benefit from a tantric massage. What happens in Tantric massage for couples is that the masseuse or masseuses will gradually introduce you to captivating erotic games, and what happens is up to you and your enjoyment. And believe me, your relationship will reinvigorate once you've had a Tantra massage for couples.
Women can enjoy the magic of an intimate ritual even without a partner. Tantra massages for women are a great way to get to know your body better, learn to love it and experience a completely different level of intimacy.
Tantra massage price list
| Length of massage | 1 masseuse | 2 masseuses |
| --- | --- | --- |
| 1,5 hours | 4,000 CZK / 167 € | - |
| 2 hours | 5,000 CZK / 217 € | - |
Our tantra masseuses
How to experience the best tantric massage in Prague 4
EXCELENT EROTIC MASSAGE PRAGUE VYŠEHRAD
Marie Cibulkové 14
140 00 Praha 4
Opening time:
Monday - Sunday 10:00 - 22:00
You can find our salon Excelent Massage Prague on Marie Cibulkové street in Prague 4, approximately five minutes walk from metro stations Vyšehrad or Pražského povstání on line C. You can also reach us easily from the bus stop Klikovka on bus line 134, which is about a 5-minute walk away.
If you come to us by car, you can park directly in Marie Cibulkové street for a fee of 30 CZK/hour (paying at the parking meter). You can also leave your car in Mikuláše z Husi or Na Topolce streets marked with blue zones. You can park there only for 3 hours and pay via the mobile app (there are no parking meters).