BDSM massage Prague
Are you into bondage, slavery or teasing? Do you love fetish? Do you want to serve as an obedient slave to your mistress, at least for a while? Or would you just like to try something new, unconventional, or "forbidden"? If so, a BDSM massage is just what you are looking for.
BDSM massage is a special kind of erotic massage that contains elements of BDSM and fetish, i.e. elements of domination, whipping and pain. It includes a wide range of activities, such as light bondage, spanking, rough touching, dirty talk, nipple play, as well as stroking and fondling. The masseuse uses a variety of instruments, such as canes, whips, handcuffs, gags, blindfolds, etc., to tease you to the peak of ecstasy.
Our erotic salon in Prague has decided to offer this unconventional and stimulating massage. BDSM massage is very popular; guests often combine it with penis or prostate massage, which perfectly enhances your experience.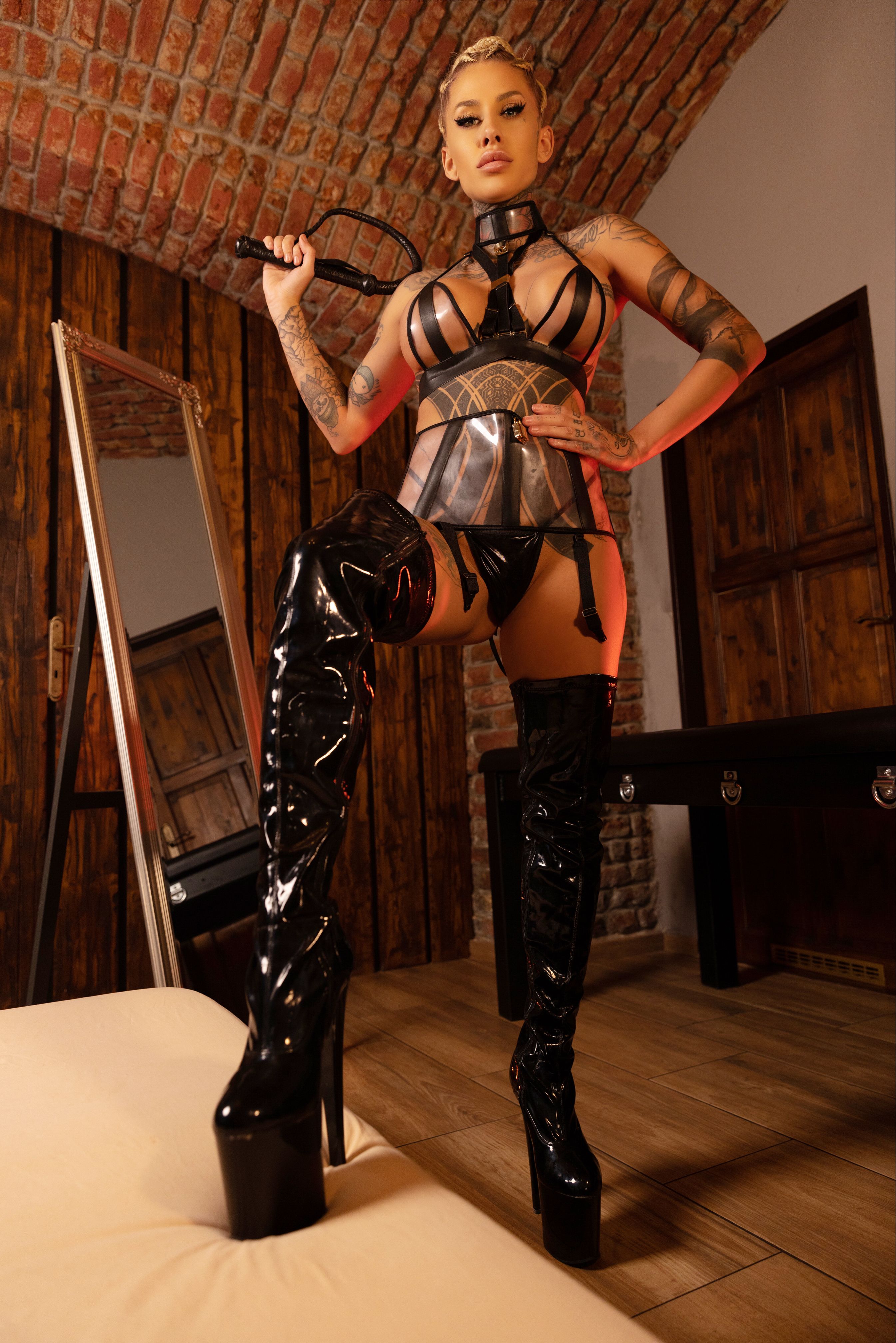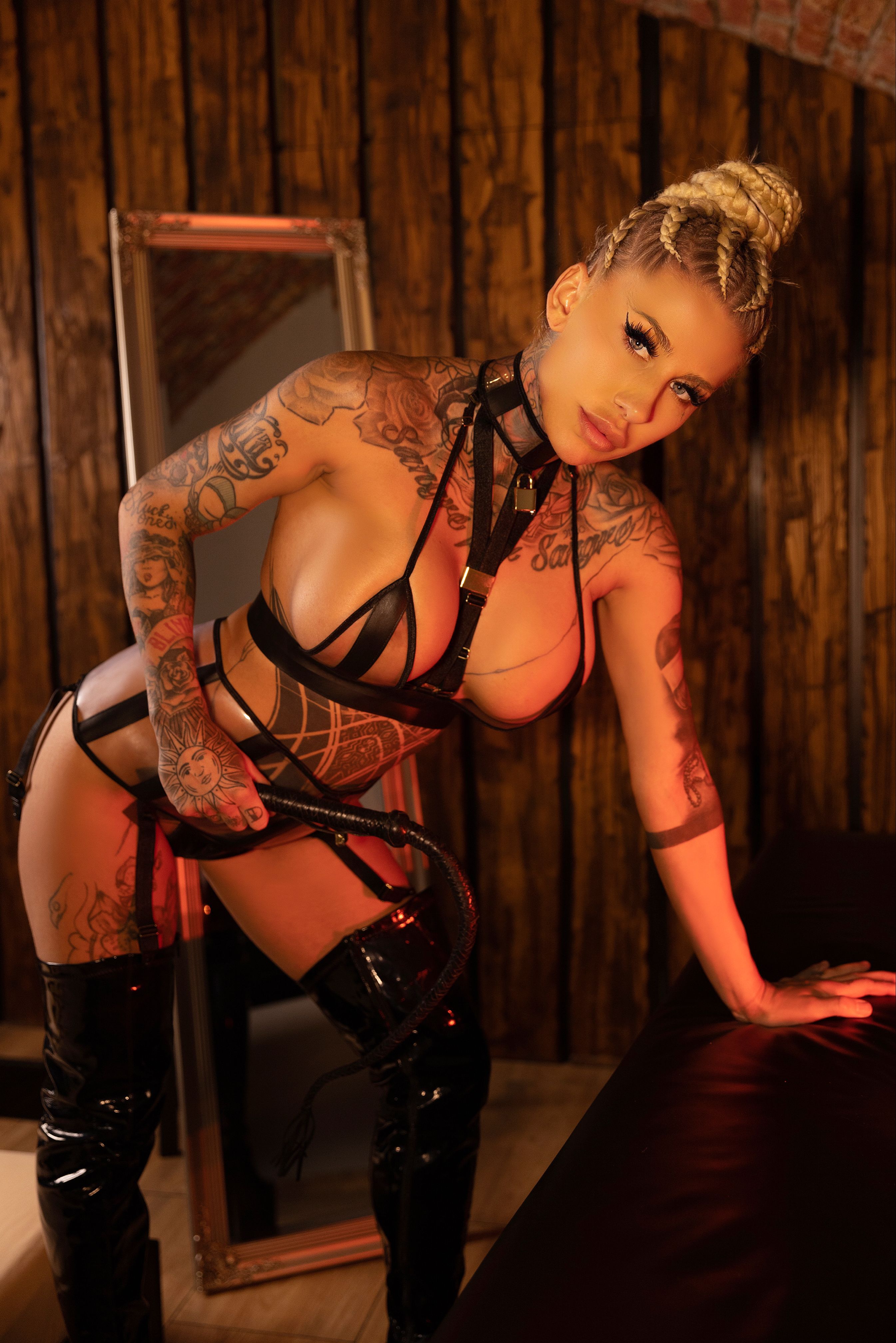 How does a BDSM massage proceed?
Before the BDSM massage, you will enjoy a relaxing shower.
All BDSM practices, including massage, rely on all participants' mutual respect and consent. Therefore, the masseuse will discuss your limits, desires and expectations before the massage begins. Do not be afraid to talk openly with her about your ideas. Our masseuses are professionally trained to give you the erotic experience you seek.
During the massage, the masseuse is either naked or dressed in sexy latex lingerie or a costume that can be complemented by a domino mask. It depends on your preference and the clothes you choose. But that's your last act of dominance. From then on, the masseuse takes over and introduces you to a whole new world of unbridled pleasure.
The masseuse begins by rubbing your body with warm aphrodisiac oil. She then continues with light touches to release tension and eliminate muscle fatigue. When you are sufficiently relaxed, the masseuse moves on to the exciting BDSM elements
The masseuse uses gentle, calm touches and light choking and stroking. But she's not afraid to push if your limits are a little further. During the massage, she uses BDSM aids, such as whips, handcuffs, reprimands, masks and more, to induce pleasurable pain, teasing and exciting humiliation. This turns a BDSM massage into an utterly unforgettable massage with a happy ending.
In our parlour, you can choose between two types of BDSM massage:
Erotic massage with BDSM elements: domino mask, whips, reprimands, dirty talk, light bondage, milking table, foot fetish, choice of masseuse's clothes,
Light BDSM massage: nipple play, dirty talk, bondage, hot wax, whips, reprimands, milking table, domino mask, choice of masseuse's clothes.
The BDSM massage always includes a massage of your privates, ending with an unforgettable, thunderous orgasm. The masseuse will attend to you for the agreed time, regardless of the number of your climaxes. The number of orgasms during the massage is, therefore, unlimited.
Why choose a BDSM massage
Are you interested in this kind of massage but hesitant? Here are a few reasons why BDSM massage is definitely worth trying:
It helps with intimacy problems,
it reduces stress and tension,
it boosts your self-esteem and confidence,
it enables you to cope with pain better,
it can help you find new sexual inspiration,
you can discover your limits and explore your hidden desires,
you can learn trust and open communication.
BDSM massage is the perfect choice for anyone looking for a new and exciting experience. And why is BDSM massage so popular with our beautiful ladies?
They love being in the dominant role,
BDSM massage is a little show, much like the Milking Table,
they love the sexy lingerie and latex costumes you can choose for their massage.
Price list of BDSM massage in Prague
| Length of the massage | Erotic massage with BDSM elements | Light BDSM massage |
| --- | --- | --- |
| 1 hour | CZK 3,800 | CZK 4,500 |
| 1,5 hours | CZK 5,700 | CZK 6,800 |
Beautiful ladies that can torture you with BDSM massage in Prague

Additional services
Trampling (extra charge of CZK 500)
Would you like to spice up your BDSM massage a little more? Try trampling, where the masseuse steps on your body. This practice involves exciting pain and humiliation, but what's really hot is when the masseuse wears stockings or sexy-heeled boots.
You can also combine your BDSM massage with the popular prostate or perineal massage or footjob and treat yourself to unprecedented pleasure. Men also enjoy an energising lingam massage, and women a yoni massage. The hot lap dance is also very popular.