TOP 5 erotic massages in Prague: Our massages
11.4.2023
Would you like to try an exciting erotic massage but are unsure which one? We can help you. We have selected the five best erotic massages for you to try in our luxury massage parlour. Find the right one and experience the ultimate thrill.
Our Excelent erotic salon offers beautiful, experienced masseuses or luxuriously furnished rooms and a wide range of different erotic massages that will take you to the peak of pleasure. In addition, we have prepared a unique novelty for you that is an absolute dream of every man.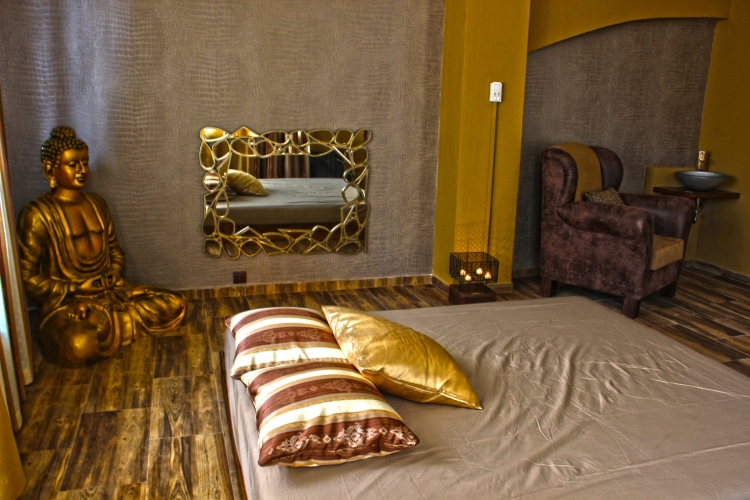 NEW: Unique Milking Table
The stimulating Milking Table massage is a truly unique experience. The fact that you can try it only in Prague and now also in our parlour is exciting.
The Milking Table massage uses a unique recliner with an opening for your privates. This erotic massage will bring you powerful and even explosive relaxation. Don't miss the opportunity to experience an exciting massage you have probably only seen in adult films.
Wondering how the Milking Table works? It starts just like any other erotic massage we offer, namely with a pleasant shower you enjoy with your masseuse, preparing you for the massage and helping you relax faster. Once you are on the lounger, you'll be treated to a relaxing back and full-body massage, but spiced up with something a little something extra. The masseuse slides her whole body over you, increasing your arousal to the absolute maximum.
After the full-body massage, the masseuse moves under the recliner. She focuses exclusively on your penis and testicles until you reach a powerful relaxation. The massage won't end with it. The masseuse will focus entirely on you for the agreed length of time, bringing you to the peak of ecstasy as often as you can manage. This hot massage session will be a real endurance test of your self-control and stamina.
Intimate massage: Traditional massage and maximum excitement
Hot intimate massage has become one of the most popular erotic services we offer, and rightly so. The masseuse applies a body-to-body massage technique, paying particular attention to your privates and erogenous zones. The massage stimulates the blood flow to the treated areas, increasing and restoring their sensitivity. Therefore, you will quickly become aroused, and the skilful hands of our masseuse will bring you to an unforgettable relaxation.
What can you expect from an intimate massage? First, you will enjoy a relaxing shower, accompanied by your masseuse, to help you relax. Then our masseuse will take you to one of our stylish rooms where the adventure can continue. You will sink into endless bliss in a relaxing atmosphere spiced with eroticism. During the massage, the masseuse will use hot aphrodisiac-scented oils to heighten your arousal and perform a full-body massage. Finally, she will massage your penis and testicles until you reach a fantastic relaxation.
Nuru massage: A taste of the exotic
Would you like to try an erotic massage with a touch of exotic flair? If so, a Nuru massage is an excellent choice for you. This massage originated in faraway Japan. Instead of using fragrant oils, the masseuse applies the so-called Nuru gel. The gel is made from nori seaweed and softens your skin without leaving a greasy film. The gel makes it easy for the masseuse to glide her whole body over yours. The body-to-body massage technique forms an essential part of a traditional Nuru massage.
Wondering what the Nuru massage involves? Before the Nuru massage, you'll enjoy a relaxing shower with your masseuse, followed by spreading the Nuru gel and a relaxing full-body massage. The masseuse uses her body to rub you and then continues the intimate massage. Your skin will feel silky smooth to the touch. The Nuru massage helps to wash away accumulated stress and boosts your zest for life.
Royal Excelent Massage: Luxurious pleasure
Would you like to enjoy a really hot, erotic massage? If so, the Royal Excelent massage is the right option. You will enjoy the combination of the skilled hands of our beautiful masseuses, heated aphrodisiacal fragrance oils and hot lava stones to invigorate both mind and body. Warming up and increasing the blood circulation in your body enhances the sensitivity of your skin and, of course, your experience.
What does the Royal Excelent Massage involve? This massage also includes a relaxing shower with the masseuse and a full-body massage. Our masseuse applies deft movements to loosen up the stiff spots and improve circulation. Then, she adds lava stones to continue the warming-up process and increase the sensitivity of your senses. The entire session concludes with an intimate massage that brings you to a delicious relaxation.
Tantric massage: An amazing combination of eroticism and spirituality
If you love to experiment, our sensual Tantra massage will satisfy you. This ancient massage technique combines sexual and spiritual elements and is designed to help release pent-up intimate energy.
What will you experience during a tantric massage? You can enjoy it in an intimately lit room and comfortable atmosphere. Physical intimacy represents an essential aspect of tantric massage. During the massage, our masseuse uses a unique technique to rub your entire body, releasing blocked energy and filling you with new life force. She may also stimulate your sensitive senses with various aids, such as soft feathers or heated fragrant oils with aphrodisiac effects.
Our masseuse gently touches your whole body during the tantric massage, including your privates, which receive special attention. Culmination during or at the end of the exciting tantric massage is, thus, quite common. And don't worry, you won't miss the shower with the masseuse before and after the massage.
Experience absolute pleasure and book one of our hot massages:
Our beautiful masseuses
The offer of masseuses may change over time. Go to the masseuse page for the current selection.