Would you like to unwind? Try the best tantric massages in Prague
6.10.2022
Many myths are associated with tantric massage, and people often perceive it with prejudice. The truth is that it is not a conventional erotic massage. Tantra massage combines aspects of eroticism and spirituality, and you will experience a brand new dimension of intimacy and perfect relaxation.
Sexuality constitutes an essential part of the tantric massage; however, its primary intention is not to achieve the climax. You may have heard about the benefits of cultivating your own sexual energy, which more or less influences all areas of your life. Tantra massage will assist you in learning how to handle your sexual energy properly, become fully aware of your body and experience an entirely new dimension of sexual excitement and eroticism.
How does tantric massage look like?
Our tantra masseuse will invite you to enjoy a pleasant shower together to slowly relax before the actual massage. After showering, you can experience a full body massage in the tranquil yet erotic ambience of one of our luxurious rooms in the centre of Prague. During the massage, the masseuse uses heated towels and various aids to stimulate your senses - soft feathers and scented aphrodisiac oils of your choice.
During the tantric massage, the masseuse stimulates your erogenous zones, and the entire experience culminates with a hot penis massage, otherwise known as a lingam massage. Through the intimate massage, she disperses the accumulated energy from your privates to the whole body, and you will enjoy an incredible, explosive climax.
The masseuse is completely naked when providing a tantra massage; however, if you wish, she can wear sensual lingerie, lace stockings or a seductive chemise.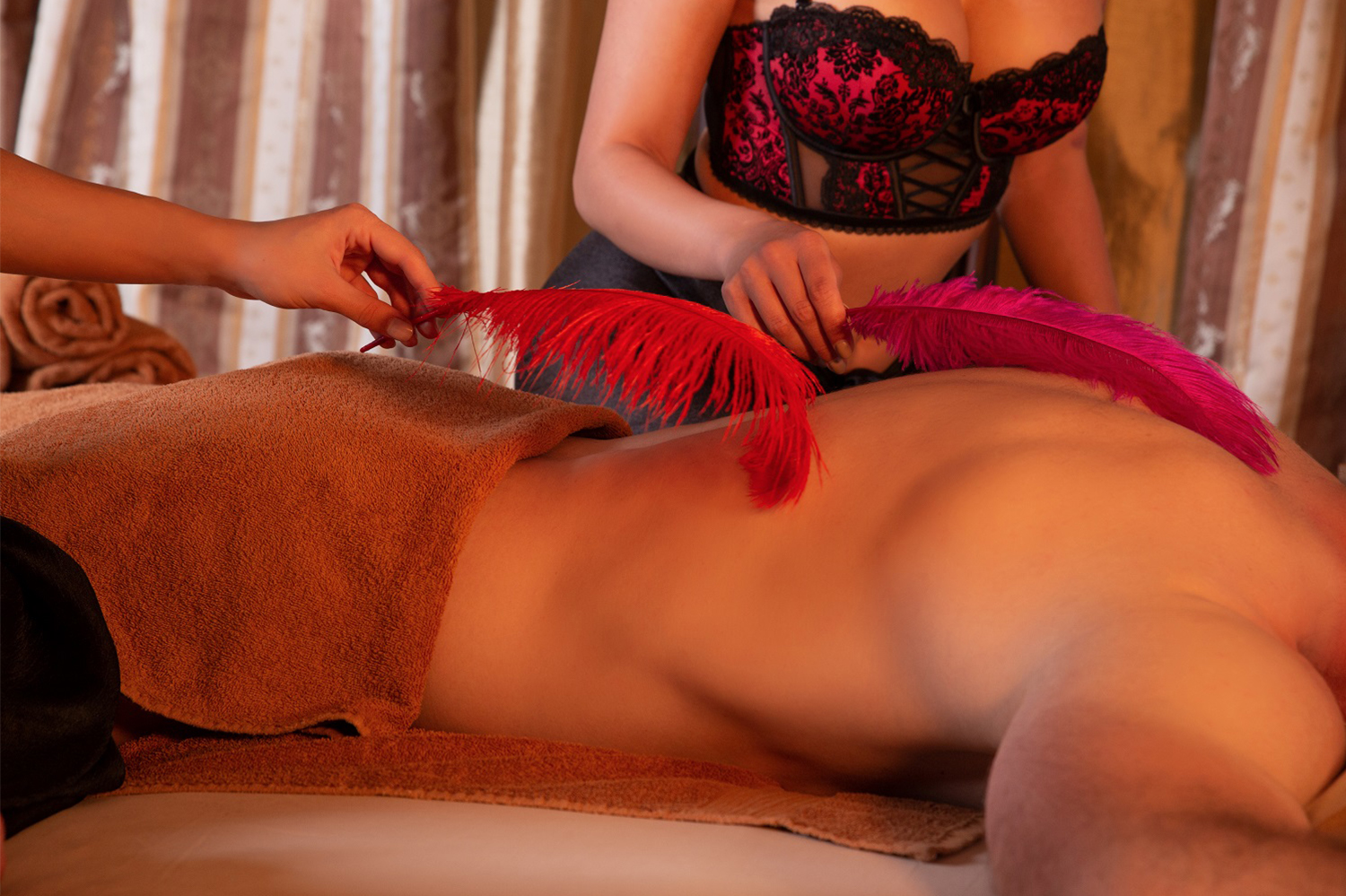 Benefits of tantra massage
Tantra massage affects your sex life as well as your health in a very positive way. Learn more about the benefits you can look forward to.
you will gain a new life force

you will experience electrifying excitement

you can learn to control your sexual energy

you will relax

the massage can assist you with erectile dysfunction

it promotes blood circulation

it eases depression
Tantra massages in Prague are not exclusively for men
Men and women alike have become very fond of Tantra massage Prague, and even couples facing a relationship or sexual problem often rely on them. By experiencing tantra massage for couples, you can strengthen your relationship, release the accumulated sexual energy and unwind perfectly. Women can learn to love their bodies through tantra massage for women, discover a brand new level of sexuality and experience a powerful climax during the following yoni massage.
You can also enjoy perineal or prostate massages as popular additions to a tantric massage, enhancing your overall experience. Enjoy your tantra massage as much as possible, and try a hot lap dance or an original footjob.
Discover the magic of meditation, rituals and intimacy in our massage parlour located in the centre of Prague and let yourself be pampered by our skilful masseuses.
How to experience the best erotic massage in Prague 4
EXCELENT EROTIC MASSAGE PRAGUE VYŠEHRAD
Marie Cibulkové 14
140 00 Praha 4
Opening time:
Monday - Sunday 10:00 - 22:00
You can find our salon Excelent Massage Prague on Marie Cibulkové street in Prague 4, approximately five minutes walk from metro stations Vyšehrad or Pražského povstání on line C. You can also reach us easily from the bus stop Klikovka on bus line 134, which is about a 5-minute walk away.
If you come to us by car, you can park directly in Marie Cibulkové street for a fee of 30 CZK/hour (paying at the parking meter). You can also leave your car in Mikuláše z Husi or Na Topolce streets marked with blue zones. You can park there only for 3 hours and pay via the mobile app (there are no parking meters).