BDSM massage: An unconventional erotic experience
11.1.2023
BDSM massage belongs to erotic massages focusing on BDSM (bondage, domination, submission, masochism) activities and practices. It is primarily intended for people interested in BDSM or looking for new ways to spice up their sex life.
It is an excellent opportunity for everyone seeking relaxation and, at the same time, wanting to experience something out of the ordinary. A polite society still does not perceive BDSM positively; it is often considered downright shameful. Nevertheless, BDSM massages provide an excellent way to release sexual energy and enjoy pleasurable moments.
Massage with BDSM elements follows the wave of bondage and teasing. It includes a wide range of activities, such as bondage, spanking, rough touching, and stroking and caressing. Using sexual aids such as whips, handcuffs, or blindfolds is also common. Using them, the sensations of a penis or prostate massage will become more intense.
How does BDSM massage look like
Before the massage, you can enjoy a pleasant shower with the masseuse, where you will relax and prepare for the upcoming adventure. You'll be able to experience the rising erotic tension already in the shower.
Before embarking on a BDSM massage, talking openly and honestly about your fantasies and limits with the masseuse is crucial. It is also important to remember that BDSM activities should be conducted with the respect and consent of all involved parties.
The masseuse uses gentle, calm touches combined with light choking and strokes. She also utilises a variety of aids, such as whips, tongs, handcuffs, etc., designed to stimulate arousal and release accumulated sexual energy.
The massage starts with the masseuse rubbing your body with oil. She begins with light touches to release tension and remove muscle fatigue. When you have relaxed enough, the masseuse proceeds to BDSM elements to treat you to maximum pleasure.
Of course, the massage always includes massaging your privates, giving you an unforgettable orgasm. The masseuse will attend to you for an agreed time, regardless of the number of climaxes you have reached - their number is, therefore, unlimited.
The masseuse performs the massage completely naked or dresses up in seductive lingerie or latex costume, emphasising her dominant role.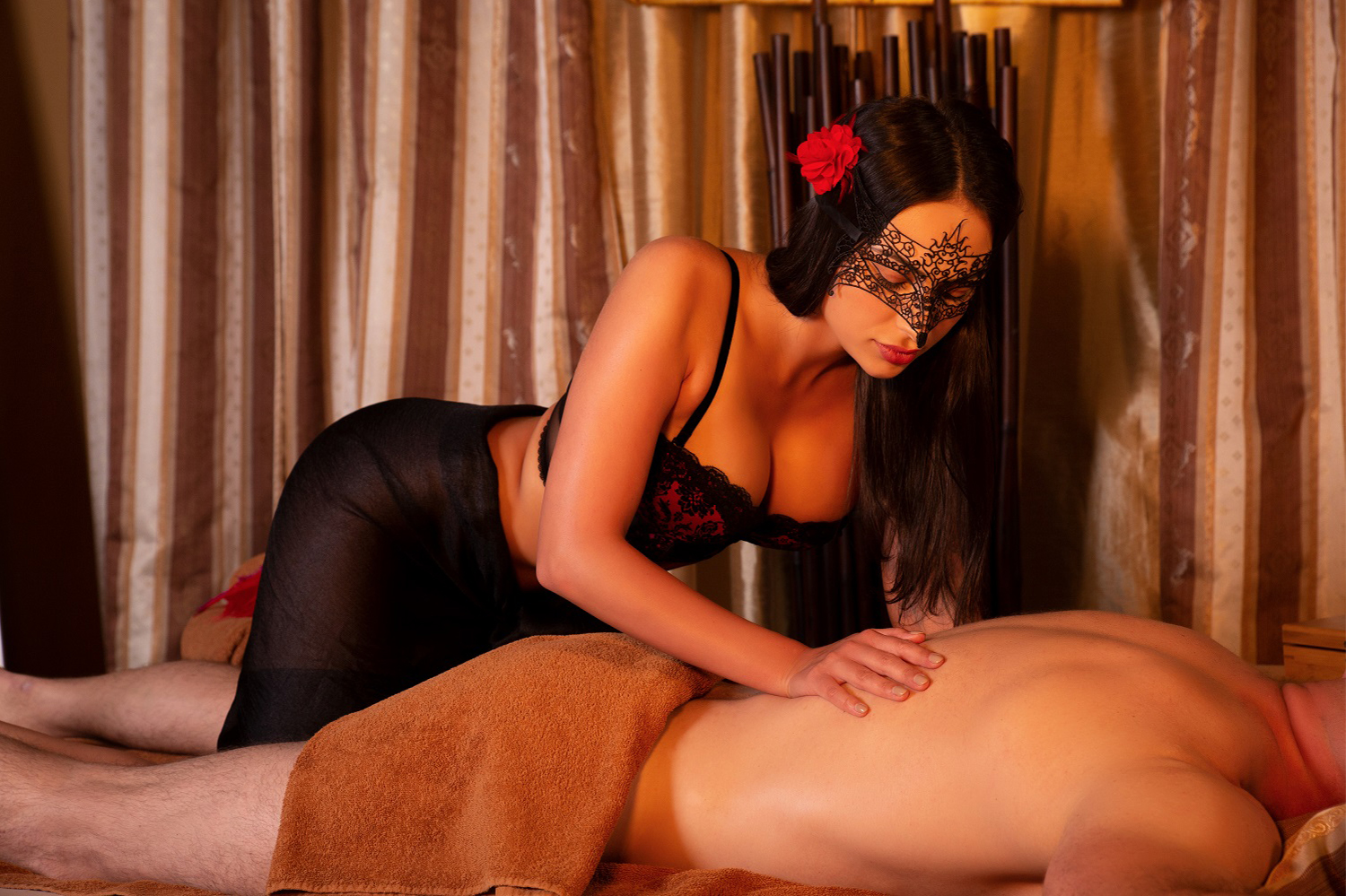 Tantra and BDSM
Tantric massage with BDSM elements combines spirituality, eroticism and domination. The teasing, balancing on the fine line between pain and pleasure, will get you hot and wild. The masseuse will show you who's boss and guide you to a roaring orgasm that will release blocked energy, infuse you with new life force and infuse you with sexual inspiration.
Your sexual energy will be revitalised by alternating different kinds of touch, both vigorous and gentle, or playing with your body, as part of the art of conscious sexual energy work. Our erotic and tantric masseuses are the masters of this! Learn to feel your body, discover your limits and experience the thrilling passion awakening through controlled pain.
Benefits of BDSM massage
BDSM massage is beneficial for your mental health as well:
it assists in releasing stress and tension by focusing on your breath and the masseuse's touch,
it increases self-esteem and self-confidence as you focus on your pleasure and sense of safety,
it helps you relax and improves your sleep, allowing you to completely forget your worries,
you experience new sensations, which can inspire you to seek new sexual inspiration,
it helps you develop your relationships because it encourages you to establish trust and to communicate openly.
BDSM massage also offers countless physical health benefits:
it helps maintain muscles in good condition and improves tissue elasticity,
it keeps blood pressure and cholesterol levels in balance,
it relieves pain, teaching you to tolerate it better,
it improves lymphatic circulation and removes toxins from the body,
it increases endorphin levels, resulting in a positive effect on your immune system.
BDSM massages offer an unconventional way to improve your health and psyche. They help defuse intimacy issues, improve your self-esteem and relieve stress. In addition, they can strengthen your resistance to pain. BDSM erotic massage is the perfect choice for people looking for new and exciting experiences.
Who can enjoy this type of massage
It is important to note that BDSM erotic massage is not suitable for everyone, and some people may find it an extremely intimate and emotionally draining experience. If you do decide to try BDSM massage, make sure you and your masseuse are clear about the rules and that you feel safe and comfortable.
How to spice up a BDSM massage:
BDSM costumes and latex outfits,
blindfolds or masks,
an agreed-upon scene,
role-playing,
alternating dominant and submissive roles.
Finally, we can point out that some people find BDSM massage a beneficial and enjoyable way to spice up their sex life. However, it should be practised carefully, taking into account the safety and consent of everyone involved.
What kind of massages can you enjoy in our parlour
You can choose from a wide range of erotic massages performed by gorgeous masseuses.
Are you unsure which massage should you choose? We can help you. We have selected TOP 5 erotic massages in Prague for you to try in our luxury massage parlour. Find the right one and experience the ultimate thrill.
Our beautiful masseuses