Lesbian massage: Enjoy a hot show!
11.1.2023
A stimulating erotic massage provided simultaneously by two masseuses who also caress each other? This is every man's dream! Of course, women are also welcome. Read on to find out what you can expect from such a sensual massage and how the masseuses can please you.
Lesbian massage combines a sensual erotic four-hand massage and an exciting lesbian show. You will melt under the electrifying touch of the two masseuses attending to you simultaneously while you enjoy watching them play and tease each other.
Double the touching,

the ultimate pleasure,

a titillating show.
If you want to enjoy a truly unforgettable experience, you won't go wrong by choosing a hot massage session with two masseuses.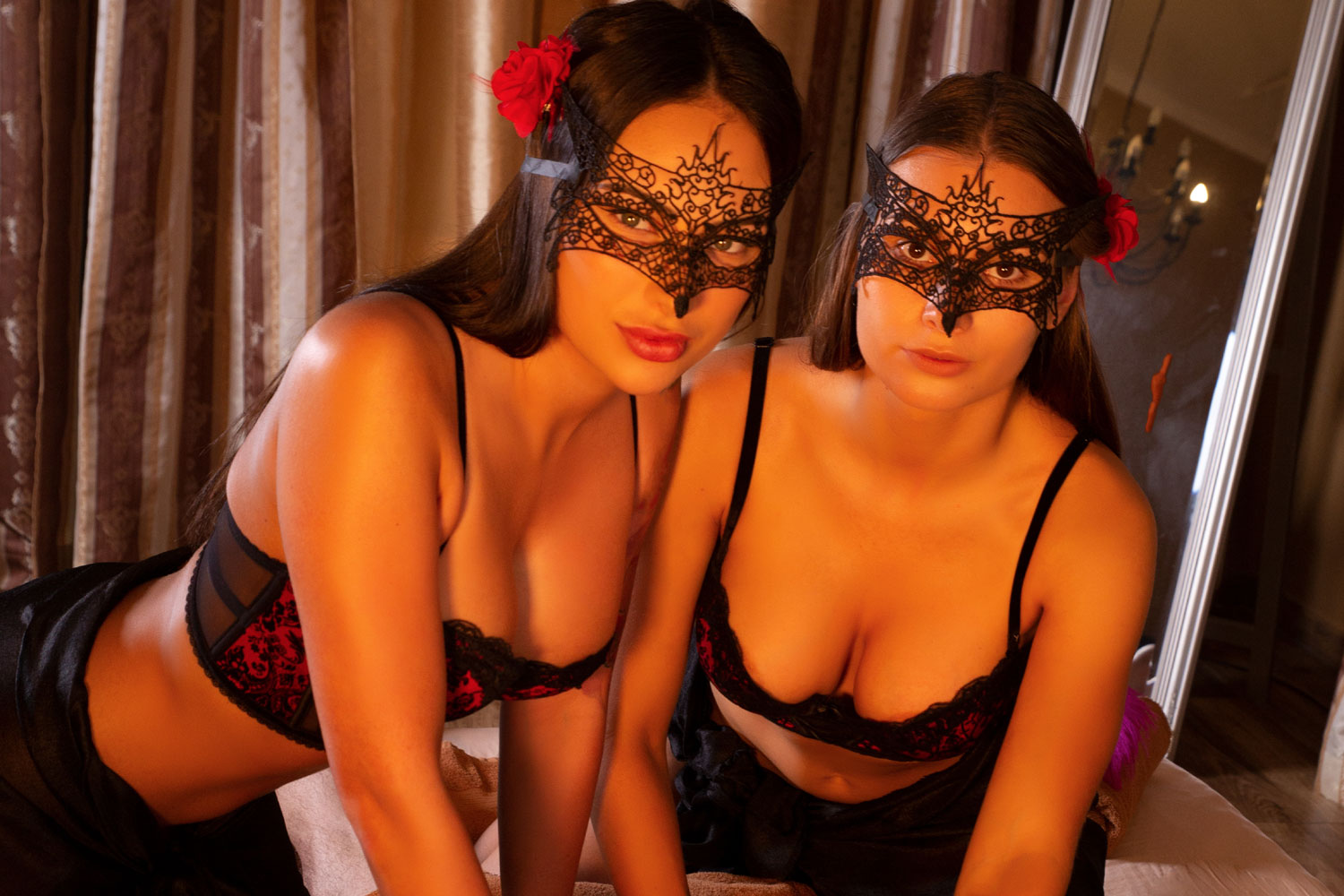 How does lesbian massage look like
You will share a shower with two masseuses before the massage actually takes place. There, you will begin to experience the rising erotic tension. The pleasant shower will help you to relax and get into relaxation mode. Afterwards, the masseuses will escort you to one of the cosy rooms to embark on your beautiful sensual adventure.
First, the masseuses will treat your whole body with a massage using a heated aphrodisiac oil to perfectly relax you and prepare you for the next step. They massage you both simultaneously, so you enjoy a double load of hot touches.
Even though the masseuses focus their attention on you, they also perform a stimulating lesbian show. As you watch them caress, play and erotically tease each other, your excitement builds.
Eventually, the masseuses focus on your privates. An exciting penis and testicle massage will transport you to cloud nine, and you will experience an unprecedented relaxation. You do not need to worry if all that sensual touching is too much for you. The masseuses will continue to attend to you until the end of the agreed time.
Both masseuses are usually naked during a lesbian massage; however, if you prefer sensual lingerie, sheer chemise or lace stockings, they will gladly put them on for your pleasure.
Lesbian massage and its health benefits
Lesbian massage positively affects your psyche and physical health and offers ultimate physical and mental pleasure. This exciting massage provides the following benefits:
it is excellent for relieving muscle tension, stiffness and stress,
it strengthens your immune system and helps you fight against civilisation diseases,
it restores your energy and vitality,
it promotes blood circulation,
it improves your mood,
it induces psychological well-being and relieves stress or anxiety,
it reduces shame and increases self-confidence,
it broadens your horizons in the intimate sphere, positively affecting your relationship with your partner.
What kind of massages can you enjoy in our parlour
You can choose from a wide range of erotic massages performed by gorgeous masseuses in the comfortable premises of our massage parlour located in the centre of Prague. Treat yourself to a hot massage.
Are you unsure which massage should you choose? We can help you. We have selected TOP 5 erotic massages in Prague for you to try in our luxury massage parlour. Find the right one and experience the ultimate thrill.
Our beautiful masseuses
The offer of masseuses may change over time. Go to the masseuse page for the current selection.