Your first visit to an erotic massage
6.4.2023
Would you like to try an exciting erotic massage but are held back by shame or concerns about discretion? No worries! Read on to find out how a visit to our massage parlour works and what you can look forward to.
While many people still consider erotic massages taboo, others are keen to try them but are still hesitant. Fear of the unknown is natural, but we assure you it is entirely unnecessary. We guarantee maximum privacy, discretion and a pleasant environment in our massage parlour. You will be able to relax there and forget about your initial nervousness.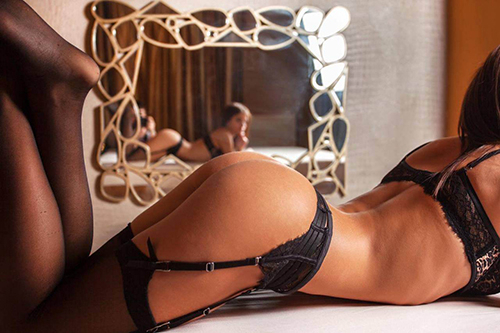 It is well known that massages are pleasant and relaxing. Moreover, they also have health benefits - they help relieve stress, improve body regeneration, and the erotic ones also boost your libido.
Booking an erotic massage
You can make an appointment for an erotic massage online in a few minutes using our booking system. You can choose your preferred massage and the masseuse to treat you to a sensual massage. We will confirm your appointment by e-mail; all you have to do is look forward to a new hot experience.
Not sure which massage is best for you? Take a look at our erotic services and read what makes each massage special. However, we are confident that all of them will make for an unforgettable experience. Meet our beautiful masseuses and choose the one with whom you want to spend a pleasant and exciting time in one of our luxurious rooms.
How does an erotic massage proceed?
When you arrive at our Prague massage parlour, your chosen masseuse will meet you and accompany you to the shower. During the shower, you will relax and get ready for the massage. The masseuse will take you to one of our beautiful rooms, where she will start with a relaxing full-body massage.
Usually, our masseuses are utterly naked during the massage. Still, they can dress in seductive lingerie, sheer chemises or stockings if you wish. To make your experience absolutely perfect, the masseuse uses heated fragrant oils with the aphrodisiac effects of your choice. By doing so, they help to relax your body and mind and stimulate your arousal.
If you have chosen the Royal Excelent, Tantric or Excelent Spa massage, the masseuse will use aids such as tantric feathers or lava stones to stimulate your senses.
After the full body massage, the masseuse focuses on your erogenous zones and private parts. By teasing them, she builds up your arousal to heavenly heights and brings you to a thunderous climax. The massage is limited only by time, not by the number of orgasms you reach, so you can experience several.
Our erotic massages
You can choose from a wide range of exciting massages in the luxurious premises of our massage parlour. Treat yourself to a hot massage with a happy end.
An extra dash of pleasure
On top of the standard intimate massages offered, you can enjoy some of our popular extra services for an additional fee to maximise your pleasure.
For example, we recommend the unforgettable footjob, where the masseuse teases your penis with her feet, the exciting lap dance, which you can enjoy as a sensual prelude to the erotic massage, or the orgasmic massage of the perineum or prostate.
Men can enjoy a hot lingam massage, and women can experience a yoni massage, all within the complementary tantric massages. The names of these two massages come from the Sanskrit language and denote the male and female sex. Our masseuse applies ancient tantric techniques to guide your body and mind to relaxation, focusing exclusively on the private parts. In doing so, she will stir up the energy accumulated around your genitals, distributing it throughout your body, and you will experience a surge of vitality.
At the end of a delightful massage
When the erotic massage is over, the masseuse will accompany you to the shower, where you will wash off the massage oil residue. Afterwards, you can leave our salon in complete peace of mind and body, and we will look forward to your next visit. If you are satisfied with your massage, we will ask you to post a review on our Google profile or a few words to be placed directly on our website.
Are you unsure which massage should you choose? We can help you. We have selected TOP 5 erotic massages in Prague for you to try in our luxury massage parlour. Find the right one and experience the ultimate thrill.
Our beautiful masseuses