Erotic massages in Prague: The ultimate relaxation and excitement
5.12.2022
EROTIC MASSAGES STEP BY STEP: WHAT CAN YOU EXPECT?
We offer a variety of erotic massages; however, their course is always similar. Thus, what can you expect?
You can enjoy a shower before each massage, accompanied by our beautiful masseuse or masseuses. There, you will find relaxation and attunement with your masseuse. Afterwards, the girl will show you to one of our luxuriously furnished rooms.
The masseuse always starts with a relaxing full-body massage to assist you in achieving perfect relaxation. She uses her fingers, forearms and elbows and is completely naked during the massage. However, if you wish, she will dress up in seductive lingerie, chemise or stockings.
Moreover, the masseuse can apply scented oils of your choice. The oils are aphrodisiac, combined with relaxing music, and induce a perfect intimate atmosphere.
Once your full-body massage is complete, the masseuse proceeds to your groin, inner thighs and privates. She will also concentrate directly on your penis.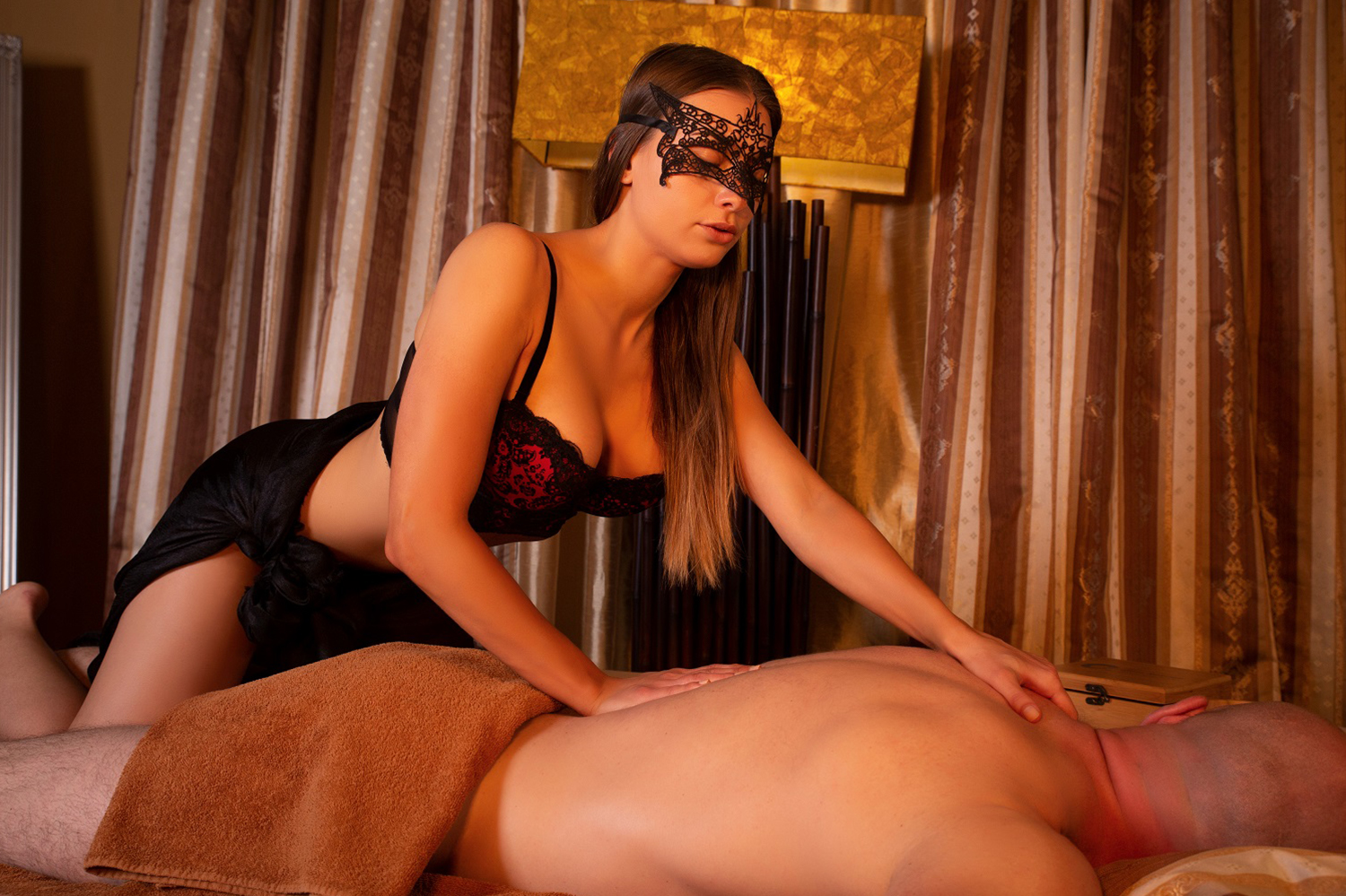 TRADITIONAL EROTIC MASSAGE
For centuries, erotic massages have been used to stimulate the body and mind. Suppose you've never received an erotic massage and don't know what to expect. In that case, a traditional erotic massage offers the perfect start.
As part of a conventional massage, the masseuse focuses only on relaxing stiff muscles and regenerating the body. However, the masseuse also takes care of your erogenous zones during a sensual massage.
A traditional erotic massage can become an indicator of your other desires. Would you like to experience tantra, combining eroticism and spirituality, or are you more attracted to the unique Milking Table massage? Continue reading, and we are sure you can find the right massage for you.
ROYAL EXCELLENT MASSAGE
Unlike traditional erotic massage, the masseuse focuses on preparing your body to fully relax your muscles and mind during the Royal Excellent Massage. She gradually warms up your body to boost the blood circulation and sensitivity of the massaged parts. Afterwards, she adds lava stones, which continue heating and awakening the sensitivity of individual cells of your skin to the very maximum.
After that, the masseuse continues the intimate massage, and the induced sensitivity will bring you moments of incredible pleasure. By massaging the erogenous zones, the masseuse can assist you in releasing the accumulated sexual energy.
If you want to get pampered twice, relax and experience the ultimate in excitement, we can recommend this hot massage provided by two masseuses.
INTIMATE MASSAGE
If you've already experienced a traditional erotic massage and want to skip the full-body part, then the intimate massage is the right choice.
Unlike the traditional erotic massage, the masseuse focuses on your privates and erogenous zones throughout the intimate massage. The intimate massage stimulates the blood supply to the massaged parts and maximises their sensitivity. Therefore, you quickly become aroused, and the skilful masseuse's hands will bring you to an unforgettable relaxation.
FOUR-HAND MASSAGE
The unique four-hand massage provides a luxurious erotic massage, relaxing your mind and body. You will experience an intimate atmosphere in a pleasant environment, and two beautiful masseuses will take care of you. Moreover, your experience will be intensified by the four hands' sensual touch.
The four-hand tantric massage combines Polynesian, Hawaiian and relaxation massage. It will de-stress you, relieve your body of tension, and stimulate your blood circulation and lymphatic system. Applying the gentle and slow touches of the masseuses, your body will experience euphoria, and you will enjoy a previously unknown pleasure.
You will enjoy a full-body and a hot massage of your privates during such a luxurious massage; the masseuses will drive you to ecstasy.
EXCELLENT SPA MASSAGE
The Excellent Spa Massage is an erotic massage to forget all your every day worries. It combines techniques of traditional erotic, intimate, tantric and body-to-body massages. Your relaxation begins already in the shower, as the masseuse uses the gentle Dead Sea salt body scrub to prepare your body for the massage.
As she massages you, the masseuse uses a variety of aids, such as soft tantric feathers, lava stones, and scented aphrodisiac oils to stimulate your senses.
The masseuse touches your entire body, focusing on your private parts, and takes you to an unforgettable relaxation. The massage usually includes a final head and facial massage.
TANTRIC MASSAGE
Traditional tantric massage belongs to the most popular erotic massage. It combines sexual and spiritual elements, releasing accumulated tension. You will enjoy a new dimension of eroticism. If you want to master and direct your sexual energy, a tantric massage is the best possible choice.
The masseuse will massage your whole body using a unique tantric technique, releasing blocked energy and infusing you with new life force. She can also apply various aids, such as heated towels or soft feathers, to heighten your senses. She touches your whole body with them, primarily focusing on the most intimate parts of your body.
Tantra massages are very popular among both men and women. However, you can also try them as a couple and spice up your relationship and sex life.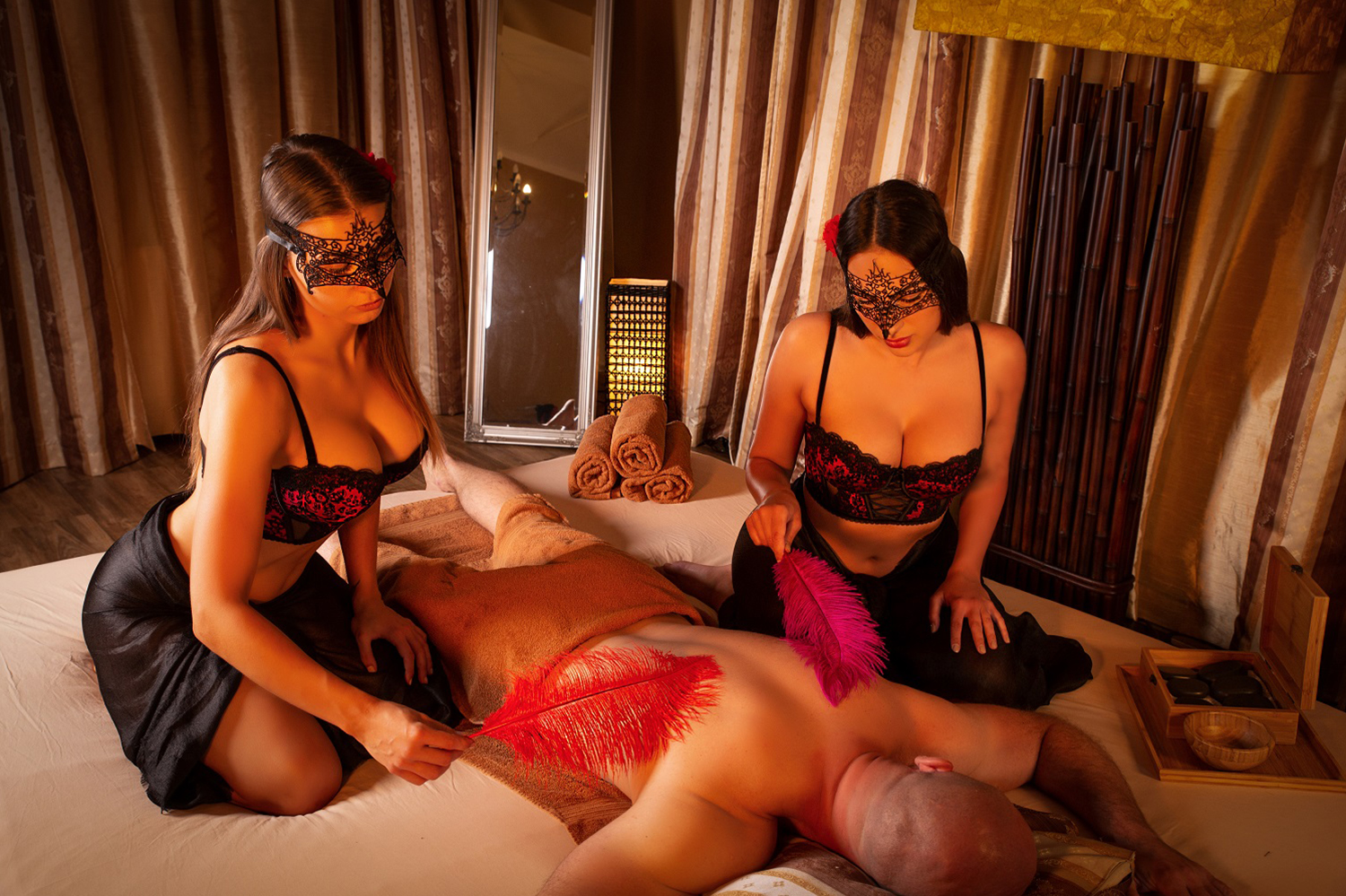 NURU MASSAGE
Would you like to enjoy a truly authentic experience? You shall try the traditional Japanese Nuru massage, providing an authentic sensory experience full of excitement and pleasant touches.
Nuru massage is a very sensual, erotic massaging technique; the masseuse treats your body with a special nuru gel instead of the usual scented oil. Then, she rubs her naked body over yours and massages you using creative body movements. You may have heard of this technique as "body-to-body massage".
Made from nori seaweed, the nuru gel can be used as an excellent lubricant as it glides luxuriously on wet skin without leaving a greasy film. Nuru massage is a particularly intense experience.
MILKING TABLE
Milking Table massage uses a unique recliner equipped with an opening for your privates, making it a true rarity. Our massage parlour in Prague has only recently started offering this sensual massage.
Initially, the masseuse massages your back and the whole body. She will relax you thoroughly with skilful strokes, relieving you of stiff muscles and preparing you for the second part of the massage. She rubs with her fingers, forearms or elbows but can also please you with a hot body-to-body massage, similar to a nuru massage. The masseuse rubs you with her nude, oiled body and enhances your arousal.
Afterwards, the masseuse moves under the massage table and focuses exclusively on your privates and their immediate surroundings. A hot penis massage will test your stamina.
PENIS MASSAGE
A sensual penis massage ranks among the most popular parts of erotic massages. The masseuse focuses on your penis, testicles and their immediate surroundings. Using gentle and playful touches, she will help you achieve complete bliss.
The relaxation is, naturally, part of the penis massage. The masseuse can often prolong the massage to maximise your pleasure. It provides some additional benefits:
You learn to enhance your stamina,
It stimulates your libido,
It strengthens your physical and mental health,
It improves your love life.
You can also spice up your penis massage a bit and try a footjob, i. e., massaging your penis using feet. You don't really have to be a hardcore footfetish enthusiast; we believe that everyone will find the long legs of our beautiful masseuses attractive.
MASSAGE FOR MEN
Men are very fond of erotic massages due to their relaxing effects and benefits to the body and psyche. They prevent health conditions, increase libido and positively influence erectile quality.
We offer a wide range of erotic massages intended for men, including tantric massage, intimate massage, nuru massage, Milking Table, penis massage or additional services such as prostate or perineum massage.
You can request these services for an additional fee along with any of our massages; some can even be provided by two masseuses. If you are seeking maximum pleasure, then erotic massages provided by two girls are just for you.
MASSAGE FOR WOMEN
Women do not frequent erotic massages as much as men; however, even they can benefit from sensual massages. Erotic massage may help women relieve tension and accumulated stress and accept themselves and their own bodies. Our salon also offers erotic massages intended for women.
It is difficult for a woman to attend a tantric-erotic massage, especially for the first time. That is why we emphasise safety, discretion and a pleasant atmosphere. A well-performed tantric massage must always include empathy and touch, i. e., sensitive, conscious and present.
Women have grown to love our yoni massage, inspired by tantric techniques, which marvellously combine spirituality with eroticism. Tantra can become a gateway to the ultimate control of your sexual energy.
MASSAGE FOR COUPLES
Traditional tantric massages provide more than just relaxation and excitement. Tantric massage for couples can spice up your relationship and ignite passion in your sex life.
Massage for couples is performed by two masseuses, ensuring that your time together is filled with eroticism and relaxation till the last moment. They massage you using delicate massage oils, pleasantly heated towels and playful feathers to stimulate your senses.
The masseuses pay special attention to your privates. Usually, the massage culminates with a joni massage and a lingam massage.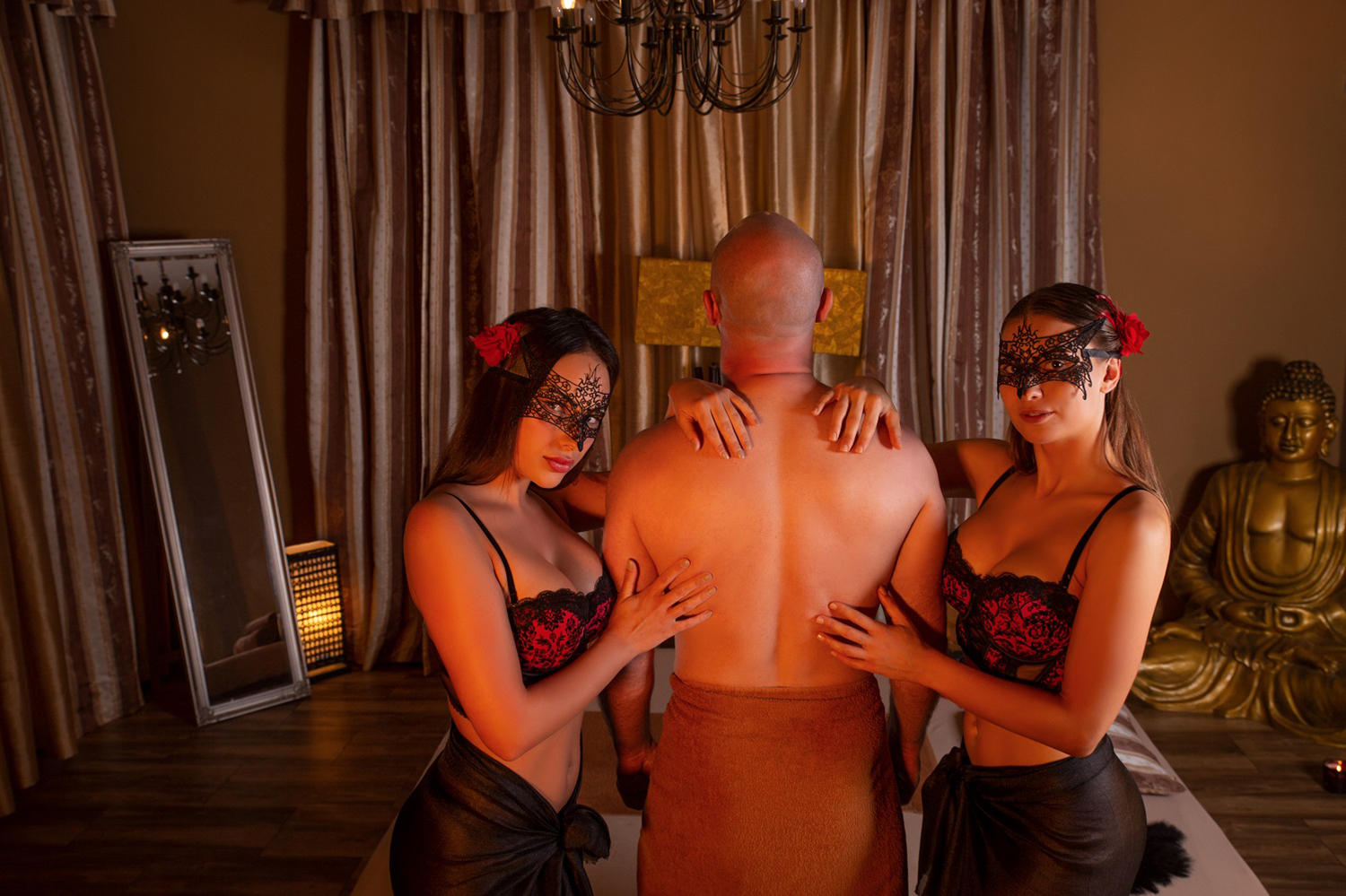 PROSTATE MASSAGE
One of the additional services you can add to each massage is the arousing prostate massage. It is preceded by a massage of the penis, testicles, and surroundings.
Once the penis has been massaged, the masseuse starts massaging the perineum and, thus, stimulating the prostate from the outside. Then, she proceeds to relaxing your anus until she finally gently penetrates it with her finger and directly stimulates your prostate.
Usually, prostate massages culminate in a powerful relaxation. However, it is also popular for its health benefits: it aids erection disorders, promotes proper secretion and stimulates your libido. It is, therefore, beneficial for your health and your relationship as well.
PERINEUM MASSAGE
Perineum massage constitutes yet another popular additional service. Men who want to experience a powerful relaxation caused by intense prostate stimulation, but do not wish to be stimulated directly through the anus, prefer this type of massage.
The masseuse focuses entirely on massaging the area between your privates and the anus. By doing so, she intensively stimulates the prostate from the outside. According to your wishes, she may or may not gently tease your prostate through the anus.
It is quite common that the perineum massage involves a powerful relaxation. After such an intimate massage, you will feel relaxed and relieved of accumulated stress and excessive sexual energy.
FOOTJOB
Footjob is an excellent choice for everyone who likes to try new things. It is a complementary massage of your erogenous zones and privates using the feet of the masseuses.
The masseuse strokes, excites and massages your sensitive areas with her long legs. Since she uses her legs, feet and toes, you are in for a truly extraordinary experience. The soft touches of her feet will surely bring you to a tremendous relaxation.
We recommend trying the footjob in combination with nylon stockings. The skilful touches of our beautiful masseuses, in combination with soft nylon, make for an excellent experience. Whether you prefer foot fetish or not, you will love the footjob.
JONI MASSAGE
Many types of massage rely on tantric techniques, and yoni massage is no different. In Sanskrit, joni refers to the female genitalia; thus, joni massage focuses directly on the privates and is the pinnacle of tantric massage.
During a joni massage, the masseuse gently stimulates your privates and concentrates on the outside and inside of your groin. This type of massage ranks among the most pleasurable massages available for women.
You can enjoy a yoni massage in one of our stylish and lovely rooms. After all, we care about your sense of peace and security and will do everything we can to make you feel as comfortable as possible. Relaxing music will ensure you stay perfectly relaxed, and our masseuses' gentle touches will stir up the energy accumulated around your genitalia and spread it throughout your body.
LINGAM MASSAGE
Lingam massage remains one of tantric massage's most popular and enjoyable parts. The masseuse gently and playfully stimulates your penis and testicles, which is a regular part of the massage.
You will experience extraordinary arousal during the lingam massage because the masseuse uses a unique massage technique to stir up the energy accumulated in your groin and distribute it to the upper body. This type of session combines spirituality with eroticism.
LAP DANCE
Lap dance represents one of the additional services and precedes the actual massage. Once you have showered with the masseuse, she will deliver a sensual dance dressed in sexy lingerie to melt you into a blissful goo.
The masseuse will create a gentle erotic atmosphere while sensually moving her hips and buttocks, bringing you to the edge of arousal. Sexy Lap Dance will stimulate your libido and inspire your sex life.
Lap Dance is a contact dance, but beware - only the masseuse can touch you; you can merely watch. This rule maximises your arousal and puts you in the perfect mood for the subsequent massage as the masseuse seamlessly flows into it.
Are you unsure which massage should you choose? We can help you. We have selected TOP 5 erotic massages in Prague for you to try in our luxury massage parlour. Find the right one and experience the ultimate thrill.
ADDITIONAL SERVICES: SPORTS MASSAGE
You can also enjoy traditional sports and relaxation massages in our massage parlour in Prague 4. Such treatments are applied, for example, before and after sporting activities, to relieve strained body parts, such as back and neck pain, legs and feet.
TRADITIONAL RELAXING MASSAGE
A traditional relaxing massage aims to induce a sense of relaxation. It focuses on bringing the client's body into a state of well-being or relaxing stiff muscles. The masseuse applies slow strokes such as rubbing and rolling.
ANTI-FATIGUE MASSAGE
One of our traditional services includes a fatigue-relieving (anti-fatigue) massage. Such treatment is particularly suitable for athletes who have endured high physical exertion. However, if the athlete is really exhausted, we recommend postponing the therapeutic sports massage for at least one day. This procedure ranks as the most widely applied type of sports massage.
PREPARATORY MASSAGE
Preparatory sports massage consists of a general massage designed to improve the athlete's condition. It may effectively remedy, for example, poor posture, flabby muscles or shortened tendons. The preparatory massage can also be described as a training or fitness massage.